Posted on
November 8, 2007

by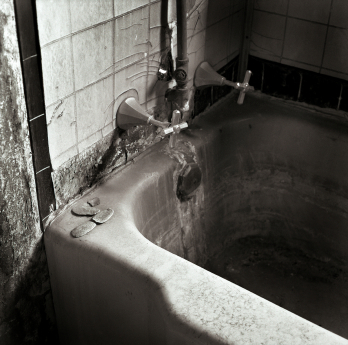 In comments, Nicole asked:
What about a good and green way to prevent mold from growing in a sad little bathroom without any fans and a very, very tiny window? Or a green way to clean the existing mold from walls, shower curtain liner, tub, toilet, etc? It's driving me crazy!!
Thanks for your question, Nicole!
Sorry it took so long for me to get back to you on this. I was letting a little mold grow in my bathroom so I could test this out for you (or I was using your question as an excuse not to clean the bathroom, depending on how you choose to look at it).
I thought I'd try a few things to get the mold to go away, but the first worked so well, I didn't get any further.
We had some mold on the floor of our shower. I sprinkled baking soda liberally, sprayed undiluted white vinegar on it and let it sit for a few minutes. When I went back to it, I scrubbed with a scrub brush until it was gone. It was very effective. Since then, I've been spraying the shower down with diluted vinegar (about half water, half vinegar) after every use. So far, no return mold.  And I know I've complained about the smell of vinegar in the past, but I'm getting used to it.  And if you spray in the morning, the smell should be gone by the time you get home in the evening.
If you have mold on painted walls, I would recommend using diluted white vinegar and an old sock turned inside out to gently remove it. Test in an inconspicuous area first, of course. And anytime you're dealing with mold, make sure to open a window, and consider using a face mask if you have allergies or asthma.
Tea Tree Oil mixed in water is also a good mold removal solution.
Of course, the best way to deal with mold is to prevent it from growing in the first place. If possible, shower with the bathroom door open, and leave the shower curtain or door open after you shower to let moist air escape. When the weather permits, open the window too.
A dehumidfier is a must. I know you said the bathroom is very small, but consider running the dehumidifier in the doorway or hall during the day while you're not home. Look for an EnergyStar model, and shop around. You should be able to find one for a reasonable price.
Hope this is helpful!