Posted on
August 26, 2010

by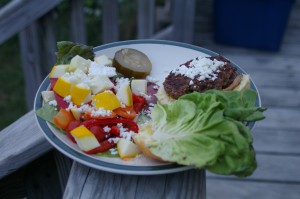 Goat meat from a vendor at the Gateway Market and veggies from our CSA. Pickle I made from my garden last year
Wolf and I celebrate our anniversary and get away to the ocean each year in York, Maine. Since we've been vacationing there as a couple for 8 years (I've been vacationing there with my family for 38 years) we are well acquainted with many of the local wares available to the the traveler. Local food availability is one of the things we're taking the time to learn about.
The CSA we purchase from allows shareholders to double up on their order if the shareholder is unavailable for whatever reason. This is what we chose to do. It required a small amount of pre-planning by calling the organizer of the CSA and letting her know we'd be away and wanted to double up. This allowed us to create a meal plan based on what we already had on hand. The cottage we rent has a kitchen which allows us to save on food costs because we didn't have to eat out every meal like we would if we stayed in motels or hotels.
The meal plan we made brought the realization we would still need to stop by the grocery store to pick up some of the things we couldn't bring with us/didn't have on hand. Knowing Maine is chalk full of farms I made the decision to stop by the local farmers market to see how many items on our list we could cross off before heading to the grocery store. The Gateway Farmers Market is by far one of the best I've ever been to. (If it's always this good Wolf and I will very, very seriously consider moving there!) The local foods available were unbelievable. I didn't keep a list of who I got food from but we got artisan bread, ground goat, milk, yogurt, plums and peaches. Finding the market required a small amount of research. A few days before we left I started looking for farmers markets online and found Maine Organic Farmers and Gardeners. After some digging I came across a list of markets in Maine. It was then I realized the local market was to take place the the day we were to arrive so I made sure we left a little earlier than usual so we could get to the market early-ish. It was worth getting up at 7a. (It's times like this I thank dog for the internet. Finding local foods wouldn't have been so easy 10 years ago!)
Being a lover of beer, Wolf likes to stop into Tully's Beer & Wine annually. The woman who owns the place specializes in hard to find and "exotic" beers and wines. There are lots of local spirits available. Wolf purchased a mixed six pack to include some local beers. Unfortunately I didn't get a picture before he sucked them back. It was vacation after all!
Each year the beach seems to get messier and messier. Wolf and I walk up and down Long Sands all the while picking up discarded plastic left by uncaring humans. This year, however, the beach was almost pristine. My gut tells me it's because of the oil spill. It seemed people were a little more respectful of Ocean than I've seen in a very long time. And maybe because the Town of York has decided there is to be no smoking on the beach. And the best part? I didn't see anyone smoking on the beach! Smokers went up to the sidewalk to smoke. I don't know what they did with their butts (I assume the butts were put into the box) but there weren't thousands of butts all over the ground. It was wonderful to see compliance!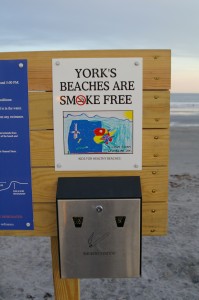 It was also nice to see the bacteria levels were being monitored. I believe York has always done this but it's never been advertised like now.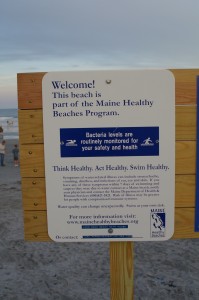 In the 38 years I've been going to York I have never known the water to be off limits because of bacteria (only because of riptides, high seas, and sharks). It's nice to know the State of Maine is taking the health of the human visitors very seriously. And it's nice to see the beach and ocean haven't been taken advantage of as it has been in the past.