Posted on
November 24, 2008

by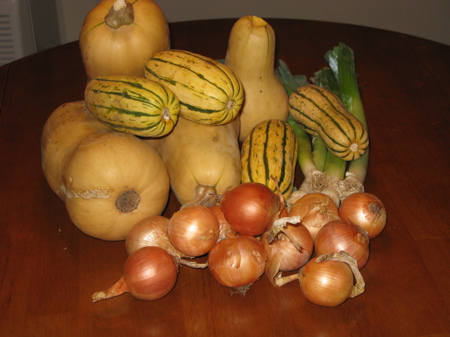 This weekend I picked up our last CSA bag for the season.  We won't be drowning in veggies again until June.  I'm a little bummed and a little relieved at the same time.
CSAs can be a lot of work.  Those veggies don't come chopped and cleaned like the ones in bags in the convenience section of the produce isle at the grocery store.  The farmer picks what's ready to harvest, and so much depends on the weather, so you get what you get and have to plan meals around the bag that week.  This is pretty much the reverse of "normal" grocery shopping, and it can take awhile to get used to.  And we won't even talk about the fact that some members of this family get a little cranky if they have to eat roasted beets for dinner every night for a week.
But the upside of joining a CSA is, in my opinion, makes the work well worth it.  The food tastes better.  There's a connection to the local economy, the seasons, and the land that you just don't get buying veggies in plastic from the grocery store.  There's less waste, less cost, a chance to try foods you might not normally try, and plenty to share and store.  This was our second year, and I will absolutely sign up for it again next year.  I can't imagine doing it any other way now.
It's been snowing here.  The ground froze before they could finish harvesting, and our last CSA bag was devoid of beets and turnips because they were frozen in the ground.  The farm will still be able to harvest them, but couldn't before the last bags were distributed.  So the bag this week consisted of leeks, onions, butternut and delicata squash.
And speaking of squash, we had several weeks worth stored up, so I got out the crock pot again and made two batches of squash (and I already have one batch frozen in double serving sized containers).
Here's my super technical crock pot squash recipe.
Peel and seed all the squash you can get your hands on (I don't think spagetti squash would work well.  I used delicata, butternut, and acorn)
Cut into small cubes
Spray crock pot with cooking spray or grease with butter or canola oil for easy clean up (I learned this tip from Dianne and it's saved me so much time in clean up)
Place squash in a crock pot
Dump some apple cider (about 8oz.), apple pie spice, and extra ground cloves in there
Stick a 1/4 to a 1/2 stick of butter in there
Cook on high for four hours or on low for eight or until you can mash it easily with a slotted spoon or potato masher
That's it.  I've been enjoying it for breakfast, actually.  It makes a great oatmeal subsitute, and is awesome with a little maple syrup or honey on top.
I made the third batch of squash plain, with just a little water in the bottom of the crockpot.  This batch is for Argo.  He loves it, and since he could stand to lose a few pounds, it'll be a good way to give him some extra fiber and cut down on calories without leaving him hungry.
The onions get used in everything, and I think the leeks might end up in something Thanksgiving-y.
There are winter CSA's, but I believe in this area there is only one and it's already full.  I may have the opportunity to purchase surplus veggies from that CSA, and I think I'll try to when our stored food is gone.  I'm going to try to avoid the produce section of my grocery store as long as possible, although, I'm happy to report that they have a very good organic section.  I'm just not ready to admit that the season is officially over.