Posted on
January 14, 2009

by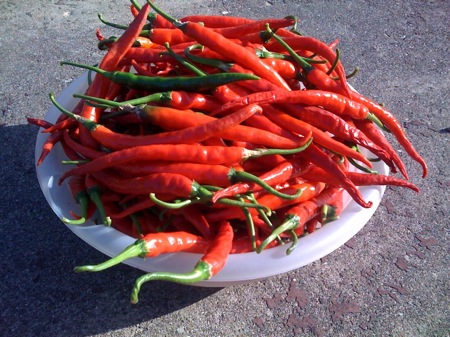 Yesterday afternoon, I sat down with a cup of homegrown mint tea that I dried myself on our clothes drying rack this fall, and a few mini zucchini muffins I defrosted from the freezer. 
On Fridays, we have gluten-free pizza topped with the peppers I roasted and froze, and I've been cutting up the peppers I dried to use in recipes.  We've worked our way through a lot of the vegetable lasagna I made, and we're still enjoying blueberries from the farm market this summer.
While I was preparing and freezing food, I have to admit that it felt like a chore.  But now that we've been enjoying it (and watching our supplies begin to dwindle) I have a new appreciation for the work I put in.  I'm excited to preserve the heck out of our local food next summer, and be more on top of my food preserving efforts.  Every time I enjoy a food I've stored for winter, I'm so proud of the effort I put into growing and/or preparing it to keep for winter, and it all tastes so much better than pre-packaged or out of season food from the grocery store.  This, will be my motivation when my garden and kitchen chores start to seem overwhelming next year.
What did you put away for winter?  What do you plan to preserve next year?