Posted on
July 24, 2009

by

Please welcome today's poster, Rachel.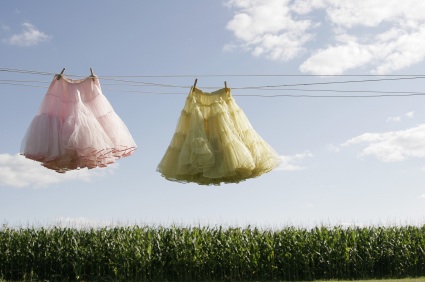 Hello! I'm Rachel and I'm looking forward to sharing my journey towards a more eco-friendly wardrobe with you. By way of introduction, I'm a full-time graduate student hoping to complete a Ph.D. and live to tell about it. When I'm not reading/writing/researching issues of gender in education, I'm over here, blogging about my creative journey in all-things handmade and making recycled clothing and accessory collections for Made By Rachel.
When Allie and Courtney asked me if I wanted to write on eco-friendly clothing, I spent four weeks trying to figure out what on earth I was going to write for my first post. Being a practical gal, I decided to stick with what I know best: clothing reconstruction. Two years ago, after committing to working with recycled materials for all of my collections, I made a large recycled t-shirt collection. (You can see most of it here.) All of the materials for this collection were 100% re-used; what I couldn't find in thrift stores, I found in my own wardrobe and in the closets of friends and family members. Sewing this collection really got me thinking about why I bother buying new at all if I have the time to recreate what I already own? I had just taken the Wardrobe Re-Fashion Pledge and decided it was time to challenge myself to stick to a "new-to-me" take on fashion.
Environmentally, there are a host of reasons to consider not buying new clothes: textile production for new clothing releases air pollution, pesticides, and contaminated waste water that is harmful to populations living near factories. Despite our best efforts to recycle our used clothing, a majority of our used textiles end up in landfills, simply because the amount of used garments surpasses our ability to recycle them. Practically speaking, few of us have the cash on-hand to buy newly made eco-friendly clothing all of the time. (I'm hoping to touch on that issue in future posts, so stay tuned.) My guess is that a majority of us have wardrobes full of clothes we don't wear enough to justify their continued existence in our closets. Instead of weeding things out, we continue to live with large amounts of t-shirts that fit snugly into the back of our drawers, hiding out among our favorite tank tops and button-ups.
In the past, when I wanted to reconstruct something new-to-me, I would head to GoodWill to find an interesting shirt or skirt to reconstruct. However, this summer I came to three conclusions:
1. Going to a thrift store may be a fun event, but I'm still spending money I probably don't need to.
2. I already own so many summer tops, I have to shove my body against my dresser to get the drawer shut. (I admit that this second realization makes me feel a bit ridiculous).
3. I believe in scissors.
Last week, I spent a full hour cutting up shirts I no longer wear. Warning: this can be an addictive activity. Once you start cutting up shirts, it's really hard not to keep cutting. The good news is that in the course of an hour, I had managed to turn five rarely-worn shirts into five "new" shirts that I can't stop wearing.
Try it yourself:
Step 1: Pick one drawer of your dresser. Lay out all of the shirts you haven't worn in three weeks. My rule is that if you don't love it, don't keep it. Stick to loving the material, not the fit of the shirt: remember you're about to reshape it. Start a barely-if-ever-worn pile to work from.
Step 2. Decide what style neckline looks best on you. (V-neck, off the shoulder, scoop…there are lots of possibilities and my guess is that you probably have enough shirts to try multiple necklines and still have a few left over.) Pick up the scissors and start cutting. Cut until you like it, trying the shirt on and reshaping the neckline until you have a new look. Voila: New-to-you clothing without the necessity of sewing skills.
Here's one of my favorites: I hand-stitched on this t-shirt two summers ago and only wore the shirt once. Although the jersey material was soft and comfortable, the neckline felt tight and the shirt too fitted: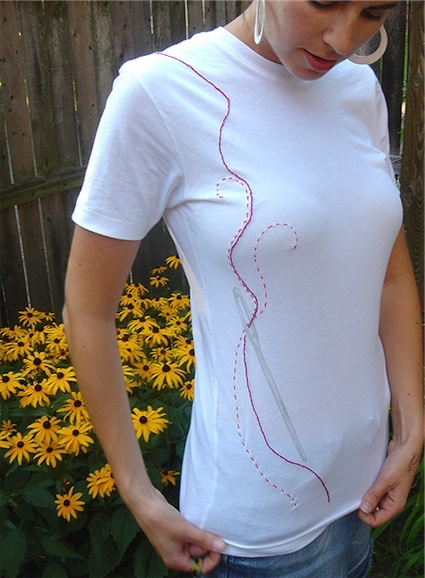 I wasn't too certain if I was willing to take the blade to this shirt but figured I had nothing to lose. Here's what I ended up with: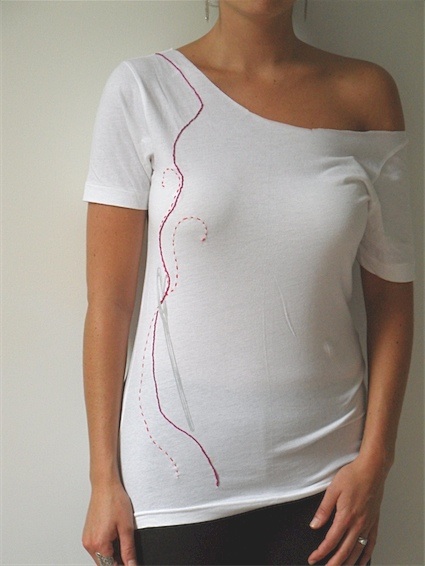 Off the shoulder and a wee-bit slouchy.
I've been wearing my five new shirts all week and I feel like I have a new summer wardrobe without leaving my house or spending a dime. For more resources on recycling your wardrobe, scope out Wardrobe Re-Fashion; if you're daring enough, take the pledge. If you want a small challenge without the commitment, stick to my 5-for-5 and see where it takes you. The smallest new-to-you clothing commitments are great first steps toward keeping your wardrobe green.