Posted on
November 10, 2011

by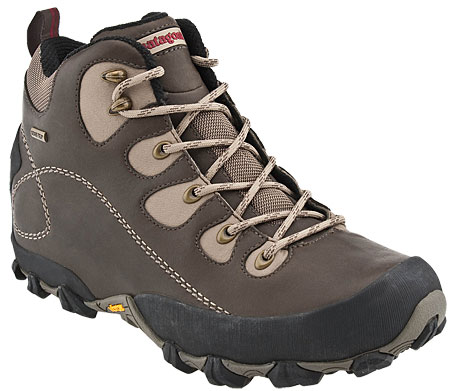 Related to our recent giveaway of Patagonia shoes from PlanetShoes, I was able to get a pair of Patagonia Nomad boots to review. Honestly, this was very good timing for me. I'm planning on going out for my yearly Thanksgiving week backpacking trip somewhere in the southern Appalachians and the boots I normally wear are ready to retire. I hate spending money on clothing and shoes, so I jumped at the chance for free boots. (We've already discussed why Patagonia is a good company.) 
The first thing I noticed about the Nomads when I pulled them from their box the day they arrived is that they look a lot sturdier than the cheap ReadHead boots I had bought on sale years ago. The padding around the ankle could come in very handy on rough trails where your feet can't quite seem to avoid smashing into roots and boulders. In addition to the ankle padding, a rubber rand rises up the side of the boot around the toe box to provide extra support and protection from trail hazards. They're also pretty nice-looking shoes in their own right.
Of course if all one needed for hiking boots is protection from cuts and collisions, then a pair of steel boxes stuffed with straw would be enough. No, if you're going to walk 10-15 miles per day through rough terrain, you need some comfortable shoes, and these are comfortable. In the time I've spent in the shoes so far, comfort isn't going to be a problem. They're supportive and feel almost cushy. They are a little stiff coming out of the box, but that's expected from a new pair of boots. You should never head out on the trail in boots that you haven't broken in and that goes double for leather boots like these.
Also, my feet were a little too warm sitting in the middle school gym for our local ceremony honoring the area veterans, but that's not really going to be a problem. I don't wear hiking boots in the spring and summer. During the warmer months, a pair of trail runners is all I need, but during the winter, those airy trail runners get a little cold. When I'm on the trail and the highs are only in the 40s, I'm definitely not going to complain that my feet are too warm. That being said, these aren't true winter boots. It's just that I'm from deep in the South and I don't really know what winter is. These boots will be fine for weather that's too cold for a T-shirt but not so cold that you have to really worry about frostbite.
Part of the warmth of the shoes comes from the Gore-Tex used to waterproof the boots, something else that can come in handy in the cooler months. Wet feet are never warm feet and during cold hikes, you want them warm. Just remember, the boots are only waterproof up to their tops. Fully submerge the boot and they'll turn into water buckets instead of boots.
I'm looking forward to finishing breaking these shoes in and taking them on my three-day backpacking trip in a couple of weeks. I'll try to take notes and provide a brief follow-up on the shoes in my next post here.
And don't forget, if you buy a pair of Nomads or any other Patagonia shoes from PlanetShoes between now and Nov. 21, they will donate $10 to the Appalachian Mountain Club.