Posted on
March 29, 2011

by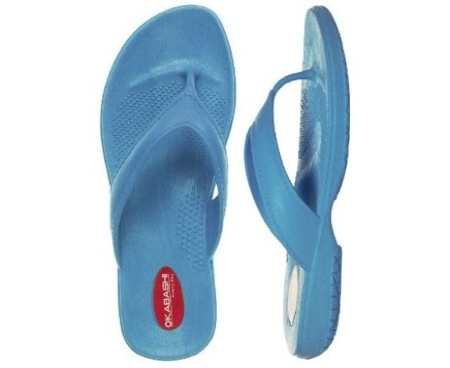 Do me a favor: Go look in your closet and find a pair, any pair, of shoes. Look for the little label or stamp that tells you where that pair of shoes was made. Without even knowing what shoes you're looking at, I'd bet good money they were made somewhere in Asia, probably China or Taiwan.
In fact, look at some other articles of clothing while you're in there. Shirts, pants, whatever. Were most of them made in China? I thought so. That's why I'm excited to tell you about my Okabashi flip-flops: Not only are they super comfortable and 100% recyclable, they were made right here in America. In fact, they were made in Buford, Georgia, no more than 45 minutes from my home.  
Okabashi was kind enough to send me a pair of their Classic style flip-flops a few months ago, but since I received them just as the weather was turning cold, I decided to hold off on reviewing them here for a while. I'm glad I did, because I've had a few months to break them in and really get a feel for them, and friends: I daresay these are the best flip-flops I have ever owned. These are much, much nicer than the ones you could buy for $3 and wear out in one summer. Okabashi shoes are lightweight yet durable, and the massaging insole and ergonomic foot bed make them oh so comfortable. I'm especially enamored by the arch support, though. That's right, these flip-flops have arch support! My feet have never been happier.
Anyone who wears flip-flops on a regular basis knows how nasty they can get. Not so with Okabashi — they're anti-microbial, which makes them anti-odor. And if you do need to wash them, just toss them right into the washing machine or the dishwasher — they're safe for both.
I bet you think the fact that they're made in America means Okabashi shoes are expensive. Not so! The Classic style flip-flops are just $14.99 on Okabashi's website — less than that if you catch them on sale — and you can get free shipping on orders over $40. There are all kinds of great styles and colors for both women and men, and every pair of shoes comes with a two-year warranty. That means if you're not happy with your Okabashi shoes, you can return them within two years of the day you bought them, and Okabashi will replace them for free.
So now you know that Okabashi makes a high-quality, comfortable product. So what about the green benefits? Well, the material used to make the shoes is domestically produced and 100% recyclable, so you can just toss your shoes into the recycling bin when you're done with them — or you can send them back to the Okabashi factory in Georgia. Your shoes will be ground into little pebbles, then melted down and made into new shoes. According to the company, this process has saved more than 100,000 pounds of waste from going into our landfills.
I honestly can't say enough about the quality and comfort of Okabashi shoes, and the fact that the company is committed to being environmentally responsible is just icing on the cake. In addition to trying out the shoes, I was given the opportunity to tour the Okabashi factory, which I'll be recapping in photographic detail tomorrow right here on The Greenists. So stay tuned, and go order yourselves some Okabashi shoes!
*We have a strict "if you don't have anything nice to say, don't say anything at all" review policy at The Greenists, so while Okabashi sent me these flip-flops to review, I was under no obligation to post about them or Okabashi, and my opinions are my own.