Posted on
March 30, 2011

by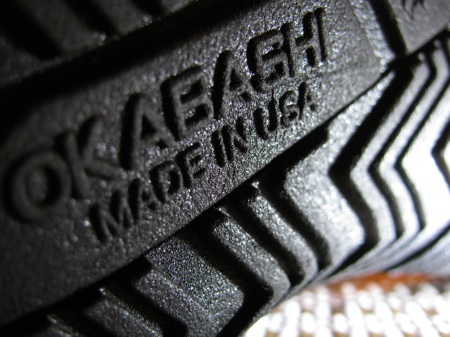 It wasn't so long ago that everyone in America bought things that were made right in our country, if not the same state. It makes sense that things would be cheaper for the consumer if they didn't have to travel halfway around the world to get to you, right? Not these days. Many of the things we buy on a regular basis just aren't manufactured in the United States anymore; companies have discovered it's cheaper to outsource factory labor overseas. That way, the companies can charge consumers pretty much the same amount in stores, but it costs the company less money to make the product.
So what does this have to do with the environment? It's not green to ship materials to factories in China — many of which far exceed the emissions restrictions on American factories — so workers can make the products, then ship the products back over here to sell to us. It would be much greener and more efficient to make the majority of the products we consume right here in the U.S. of A., and for other countries to do the same. (Plus, can you imagine the number of jobs that would open up if we manufactured more things in our own country? HELLO, ECONOMIC RECOVERY.)
So it's increasingly rare to find companies that manufacture their products domestically, but last week, I was lucky enough to tour the Okabashi factory in Buford, Georgia, which is less than an hour from my home. Clad in my beloved Okabashi flip-flops, which I raved about yesterday, Mickey (a fellow Greenist, who also served as the photographer during our tour) and I were escorted around the factory, seeing workers create the shoes that would be shipped out to stores and individual consumers. I'm glad to report that Okabashi not only creates a comfortable, high-quality product, it also lives up to its green message. (In fact, it won the Atlanta Business Chronicle's 2011 Environmental Award!) 
The Okabashi factory opened in Buford, Georgia, in 1984 — long before "green" was a trend. All shoes under the Okabashi name and its sister name, a boutique line of shoes called OKA b., are made in this factory. The first thing we saw was the virgin material that is mixed with recycled material to create all the shoes. The virgin material is made domestically, too — it's shipped to Georgia from Ohio.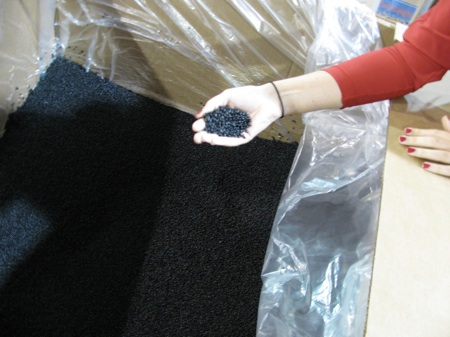 This is a box of virgin material that's used in black shoes.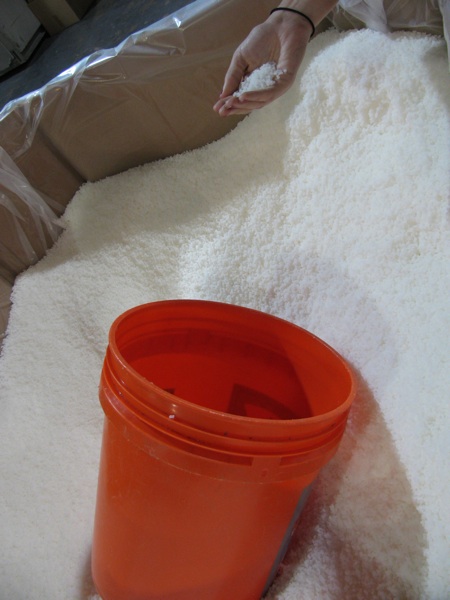 This white virgin material is combined with pigment to create shoes in different colors.
One of the things that makes Okabashi a green company is that when you're done with your Okabashi shoes, you can ship them back to the factory, where they'll be ground into pebbles, melted down, and mixed with virgin material to create new shoes. According to our tour guide, PR Director Meredith Garcia, this practice of recycling old shoes has saved more than 100,000 pounds of waste from our landfills. That's the equivalent of 10 tractor-trailers full of scraps. And if you send your old shoes back to the Okabashi factory for recycling, you'll get a discount on a new pair!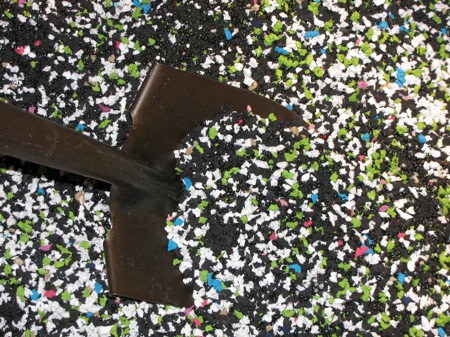 Here's a box of old shoes that have been sent through the grinder and are ready for use.
Once the virgin and recycled materials are melted down, they're sent into the injection mold and the shoe is created. After it's cooled down, a worker inspects each shoe for quality control, cutting off any excess material and making sure it meets Okabashi's high standards.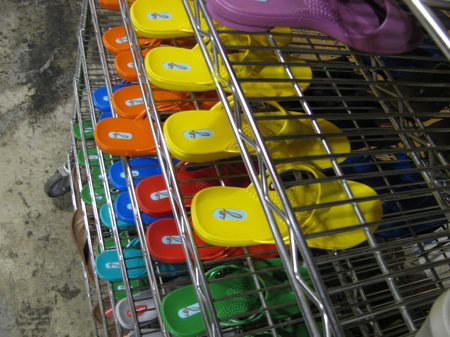 This is a rack of OKA b. shoes that are cooling down before being inspected.
Then, it's time for the shoes to be packaged and distributed.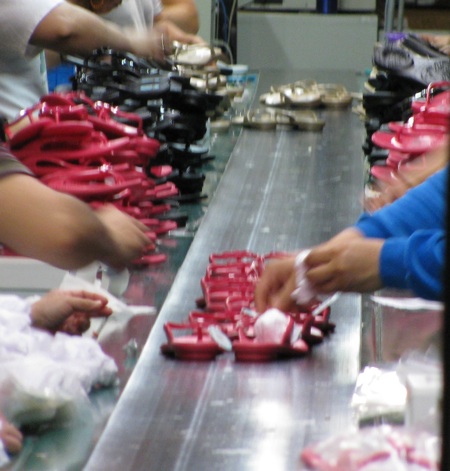 Here, workers are packaging each pair of shoes — using all recyclable materials, even for the price tags and the hangars used for displaying the shoes in stores.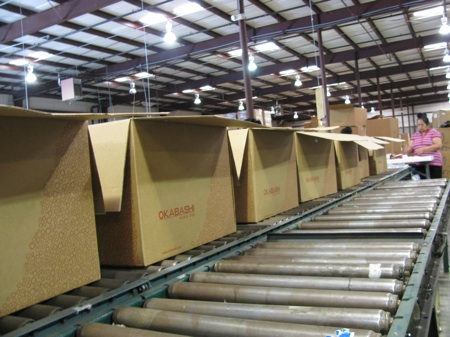 The boxes used to send the shoes to stores and customers are made from recycled material as well.
Aside from the great shoes, my favorite thing about Okabashi is that the company realizes it probably could save some money by outsourcing to China — but the CEO refuses to do it. Okabashi has made a real commitment to keeping its operations in the United States. And it's not like the company has to charge consumers a fortune to make up for the difference, either — on Okabashi's website, every style of shoe sells for under $20.
Those of us who try to live green lifestyles often hit a roadblock when it comes to buying domestically. Like I said, if you want to buy something made in America, there just aren't that many options anymore. It's really nice to see a company like Okabashi that not only creates jobs for fellow Americans, but does so in an environmentally responsible way.
Overall, I was really impressed with the smart, safe way that Okabashi runs its factory. Having seen its operations first-hand, I feel good about supporting this company, and I hope other companies take notice and realize they don't have to outsource overseas in order to turn a profit. We all have a choice, and I'm glad to see Okabashi making the right one.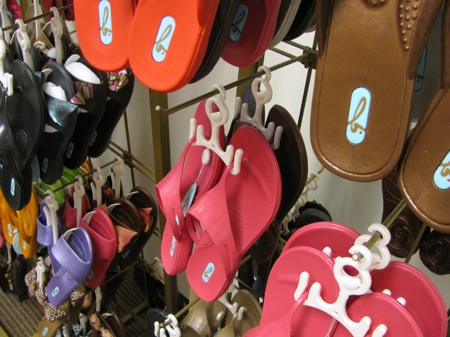 *We have a strict "if you don't have anything nice to say, don't say anything at all" review policy at The Greenists, so while Okabashi sent me these flip-flops to review, I was under no obligation to post about them or Okabashi, and my opinions are my own.