Posted on
January 17, 2011

by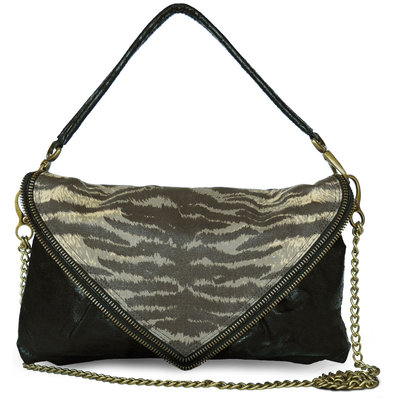 Because I was a good little NPW throughout the 2010 calendar year, Santa saw fit to leave me a beautiful gift under the Christmas tree: this gorgeous Santogold bag from vegan designer Matt & Nat. The few times I've used it to go out I've received bunches of compliments on its distinctive look. When I'm wearing it I also like to pretend I'm like a modern day, non-musical Joan Jett because it is so punk rock.
In addition to being awesome-looking, Matt & Nat products are all made using vegan leather and recycled materials. The About Us section of their website words it beautifully:
"In 1995, MATT & NAT Founder and Creative Director Inder Bedi was challenged by a Mahatma to become a Vegetarian for 30 days. It was during this time that MATT & NAT was conceived. A brand and movement shaped by the power of duality. Fifteen years later, he is continuously working towards this goal – exceeding norms to offer cutting edge products that are fashionable and beautiful and yet made in a socially responsible way, or as we like to say, with Compassion. MATT & NAT products have never used animal by-products. That said, the brand is more than just vegan. It has always been a trailblazer in the environmental movement. Each product contains at least one recycled element and on average 21 plastic bottles are recycled to make linings for our bags. MATT & NAT has always been a Pioneer in Eco-Fashion."
Plastic bottle linings! I love anything that combines form and function with fashion. So the next time you decide you NEED a new bag (this happens to me quite frequently), I'd highly recommend one of these bags. Or, you know, if you decide you NEED to buy me a gift, may I suggest this Portland bag? Because seriously: swoon.