Posted on
August 2, 2010

by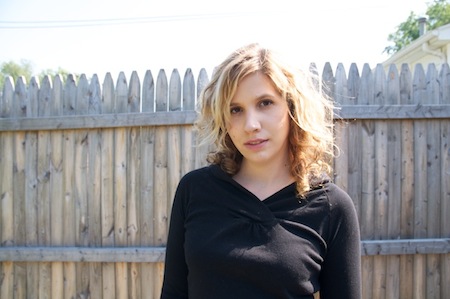 Maggie's Organics was kind enough to send along some of their organic cotton, fair trade clothes for review.  This was such a welcome project because: 1. I absolutely hate shopping and always wish someone would just pick out clothes for me to wear  2. I loved the clothes they sent.
Fair Labor Hoodie – $25 (above)
I've been calling this The Grown-Up Hoodie.  My wardrobe consists mostly of t-shirts and hoodies, but lately, I'd been feeling like 33 might be a little old to still trying to pull off 13 year-old-skateboarder-chic.  This shirt is so simple and elegant.  It's casual, but the gathered v-neck and the flattering shaping gives it a polished and pulled-together look.  It may just be my new favorite article of clothing (after my Boston t-shirt, of course), and at only $25 I plan to buy it in grey as well (maybe red, too), because I can see myself wearing these all fall and winter.  For sizing reference, I usually wear a 4 or a 6.  The small was form fitting (I probably wouldn't wear it as a layer over another shirt).  It shunk a little after washing (the above photo was taken after washing), but still fits nicely.  I might order the grey one in a medium, just to have a layering shirt.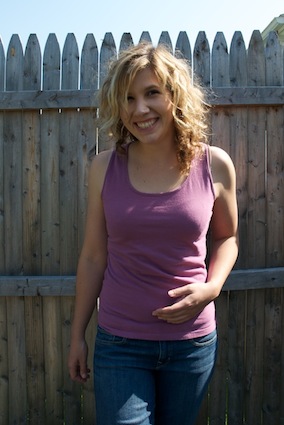 Fair Labor Tank – $15
I love the cut of this tank top.  The straps are wide enough to cover bra straps without any hassle, the neckline is flattering, but there's no worry of flashing anyone because the scoop neckline isn't too deep.  It would make a great base layer under a cardigan, but it's also easy to wear on its own.  And, $15 is what I think a tank top should cost.  I'm wearing the pink tank in a small.  It did shrink a little when washing (the above photo was taken after washing). Since I'm a big fan of layering, I wear tanks all year long.  I plan to get a few more of these to round out my wardrobe.  I love that I could wear this under a sweater, but then not feel awkwardly exposed if I got too hot and wanted to take the sweater off.
Fair Labor Sleeveless Knit Dress – $30
This dress is really cute, and the shaping is so flattering!  I have hips and the cut is accommodating.  Maggie's sent this to me in a medium, and I think that's the right size for me.  I haven't washed it yet, but I am assuming it will shrink just a bit.  I wish the cotton were lighter weight – like the hoodie & tank top – but the heavy weight cotton does keep every little bump and bulge from showing and I do very much appreciate that.  I also wish this dress came in more colors!  It's a great, comfortable alternative to wearing yoga pants around the house, and can also be dressed up a little for a trip to the store, a casual dinner, or even worn as a bathing suit cover-up.  I think the weight of the cotton makes it more of a casual piece than a dressy one, but it's super functional and so cozy!
And I love that Maggie's Organics has such a strong commitment to being kind to people and the environment.
"Maggie's Organics was founded in 1992 on the premise that workers should be treated ethically and that clothing should be durable, affordable and constructed of environmentally sustainable materials."
Maggie's Organics was kind enough to send me these clothes for review, but my opinions are my own.  At The Greenists, we have a "if you don't have anything nice to say, don't say anything at all" review policy.  If we don't like a product, we simply don't post about it.