Posted on
April 27, 2010

by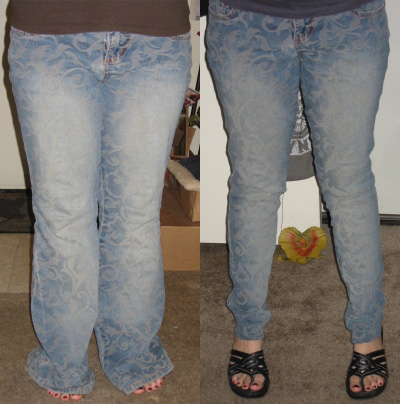 Please welcome today's guest poster, Mudnessa, who blogs at mudpuddle.
I recently took an older pair of wide-legged jeans and made them into skinny jeans.  Let me first state that I am a novice sewer, so if you have a sewing machine and have ever successfully used it, you should be able to accomplish this yourself. I did this for numerous reasons, mostly because I hate shopping for jeans. I also hate spending a ton of money on a pair and having to go home and basically deconstruct them to make them fit to my liking.
Step one: Turn the pair of jeans inside out and put them on.
Step two: Pin the inside seam to desired skinniness. When you do this, make sure the outside seam is on the outside of your leg evenly. Don't make them too tight; you will need to be able to get your foot through the skinniest part. You will also probably want a bit of wiggle room so you can breathe and function in them. You may want to elicit the help of a friend with the pinning. I had to do this step twice because I was alone and the first time the pins turned out very crooked and there was no way I could sew a functioning seam.
Step three: Take the jeans off while still pinned to make sure you can get your feet out and they aren't too tight; be careful not to stick yourself. I was still not comfortable with the pin line I had and was unsure I could sew a good seam. I put the jeans back on and to make it easier to sew a straight seam, I grabbed some tailors chalk and marked a line as straight as I could just inside the pin line, closer to my leg than the pin line.
Step four: Take the jeans to your sewing machine and sew them up. I sewed outside the chalk like, closer to the original inside seam, making them looser than the chalk line since I made the chalk line inside the pins. I started my seam on top of the existing seam a bit higher than my marked line so I wouldn't end up with an odd bunch or dart, starting with a backstitch of course so it wouldn't unravel. I continued the seam at an angle, meeting up with my chalk line and used it as an outside guide all the way to the bottom and ended it with a backstitch as well.
Step five: Cut off excess material. You may want to try them on first and make sure they fit to your liking before you cut them. I then needed to hem the bottoms since I usually wear heels; they were quite long and gathering a bit too much around my ankles.
Enjoy your new skinny jeans. It's like having a new pair of jeans without the hassle of hours of trying on pants, only to be disappointed, and also without the dent in your wallet.