Posted on
October 12, 2009

by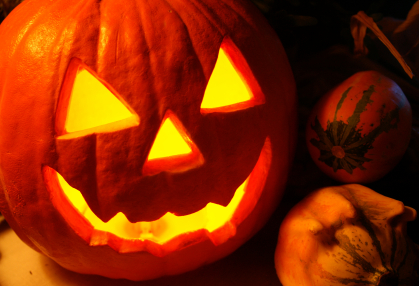 I was just thinking about whether or not I'd host a Halloween party this year when it occurred to me that in all of my efforts to be green, I've never thought much about being green on holidays — especially on Halloween. Halloween is one of those especially consumer-driven holidays, so at first glance I thought it might be hard to 'greenify' a spooky party, but I started searching around the internet for ideas and found some great ones.
The biggest change I think anyone could make in celebrating a more green Halloween would be in the treats department. Think of how many cheap bags of chocolate you buy to hand out at the door. Have you ever thought about where that chocolate comes from? There are fair-trade, organic treats out there, you just have to look a little harder for them. And maybe, just maybe if more and more of us throw support behind the companies that produce these treats, there will be more companies making them next year (meaning easier to find and cheaper!). Here are some earth-friendly treats suggested by Planet Green and more from The Daily Green.
At your party, focus on serving healthy, local and seasonal food as treats rather than sugary, chocolaty junk food. Pumpkins and roasted pumpkin seeds or mashed sweet potatoes could be mushed up brains. Organic pasta could be worms. It's always fun to bob for apples too.
There are a few more easy changes you can make. Send out your party invitations by Evite. I love all the super-cute options for personalizing your Evites, plus it's an easy way to keep track of who's coming (and I think my friends are way more likely to RSVP online than by phone). Try to stick to your dishes for serving ware, but if you need to use disposable serving ware, make sure you use the eco-friendly bamboo kind. There are tons of options at Greenfeet.com. Use soy candles in your jack-o-lantern.
Make your costume from items you already have around the house. You could have a lot of fun with this one. With bed sheets, newspapers, cardboard boxes, a little paint, your everyday clothes and some creativity you could come up with a lot of ideas. Think of famous people you could imitate with your own clothing. Check out vintage stores where you can find great items for throw-back outfits or rent a costume from your local costume shop. The Daily Green featured some of its favorite costumes made from recycled stuff (and exactly how they were made). Here are some environmentally themed ideas for Halloween costumes.
Here's a whole website dedicated to greening Halloween for more tips. How are you going to green your Halloween?