Posted on
October 20, 2011

by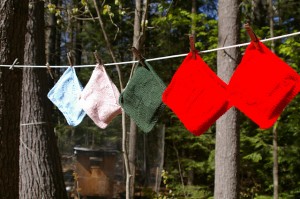 For years I'd been wanting to learn to knit but never got around to doing so. So a couple years back, I taught myself how to knit as a way to relieve the boredom, isolation, and depression of long term unemployment. And I've gotten pretty darned good if I do say so myself!
At first I made lots of dishcloths like those pictured above. Then I moved onto bigger things like blankets. I made lots of them for weddings — when Wolf and I got married it was the handmade gifts that meant the most to us so I wanted to pass along those warm feelings — and one for my cousin and, of course, Wolf. Then I moved onto hats and started making tons of those. Next on the list was shawls. Right now I'm in the process of making one for each of the elements (fire, water, air, and earth) along with one for the sun and one for the moon. I finished the sun one a couple weeks ago and am now working on water. Next on my list of things to learn to knit is socks and sweaters.
One of the prime reasons I wanted to learn to knit was so I could make clothes for Wolf and myself. Clothing ourselves is important. Wolf is teaching himself to sew so he can participate in making the clothes we wear. Like me a couple years ago, he is a novice who is teaching himself how to use the ultimate power tool. Thus far he's made a pillowcase and a pair of PJs for me.
Making our own cloth is beyond us as individuals as much as I'd like to. But making our own clothes out of the yarn and cloth we buy is still incredibly fulfilling. There is nothing like that feeling you get when you look at the finished project and think to yourself "I made that. I MADE THAT!"
You can find Howling Hill on Ravelry and Etsy. H0wlinghill is her username (that's a zero in howling) for both sites.