Posted on
July 16, 2008

by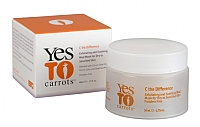 Yesterday, I went for a really long bike ride and was sweating bullets.  The bridge of my sunglasses trapped some of that sweat right up against the bridge of my nose and this morning I woke up with a big old zit.  Because I can not leave well enough alone, I tried to pop it, and made things worse.  But I'm not getting all worked up about it.  Here's why:
When I e-mailed Lauren to tell her that I loved the Yes to Carrots products she'd sent me, especially the C the Difference Exfoliating and Soothing Mud Mask, she gave me a tip – it works really well as a zit zapper too.
So as I've been sitting here writing my posts for the day, I've had a glob of mud mask across the the bridge of my nose like some sort of tribal marking, and my big angry zit is shrinking.  It's not gone, but it sure is going.
And as a full face mask, it does a great job of tightening and clearing up pores.  Plus, unlike other clearing masks I've tried, it leaves my face soft and moisturized, not tight and dry.
I love this mask so much that I asked for extras to share with you.
I have SEVEN products to give away and two are the mud mask.
C the Difference Exfoliating and Soothing Mud Mask (I have two to give away)
Mint C Me Smile Lip Butter
Carrot C Me Smile Lip Butter
Citrus C Me Smile Lip Butter
Here's the deal, every day this week I'm puting up a post about Yes To Carrots.  Sign in with a valid e-mail address to comment on the Yes to Carrots posts from Monday, July 14th through Friday, July 18th. For each comment, you'll get an entry (one per day, please). The giveaway will close on Sunday, July 20th, at noon (Eastern), and I'll draw names out of a hat to determine the winners,  Winners will be randomly assigned a product. The winners will be announced on Monday, July 21st. Comments that appear to be spam will not be counted.
Good luck!
CONTEST CLOSED