Posted on
July 17, 2008

by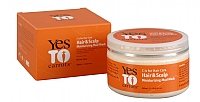 I have had major hair angst since I donated my hair at the end of last year (and put myself in the hands of a scissor happy hairdresser).  When it was long, I let my hair air dry, but when I air dry now, my hair takes on a life of it's own and sticks out in all directions.  So, until it grows a few more inches, I'm chained to my hairdryer.  Since I plan to donate again, keeping my hair healthy is a high priority. 
On Sunday, I slathered on a face mask and C is for Hair Care Hair and Scalp Moisturizing Mud Mask, tidied up around the house for 15 minutes and rinsed.  We already talked about the benefits of the face mask, but the hair mask was equally wonderful.  My hair was so soft and shiny, and much more manageable.  And it still feels softer than usual (and it's Thursday now!).  I was so happy with the results, that I think I'm going to make this my new Sunday morning ritual.
Interested in giving a Yes To Carrots product a try?
I have SEVEN products to give away.
C the Difference Exfoliating and Soothing Mud Mask (I have two to give away)
Mint C Me Smile Lip Butter
Carrot C Me Smile Lip Butter
Citrus C Me Smile Lip Butter
Here's the deal, every day this week I'm puting up a post about Yes To Carrots.  Sign in with a valid e-mail address to comment on the Yes to Carrots posts from Monday, July 14th through Friday, July 18th. For each comment, you'll get an entry (one per day, please). The giveaway will close on Sunday, July 20th, at noon (Eastern), and I'll draw names out of a hat to determine the winners,  Winners will be randomly assigned a product. The winners will be announced on Monday, July 21st. Comments that appear to be spam will not be counted.
Good luck!
CONTEST CLOSED