Posted on
May 21, 2009

by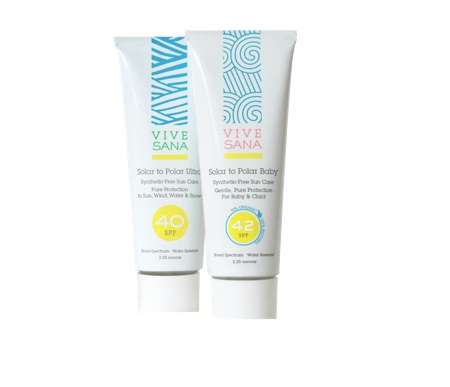 I take my pastey appearance seriously, and I am a sunscreen fanatic.  But it's hard to find a sunscreen that isn't full of icky ingredients and doesn't spread on like library glue, and even harder to find one that doesn't come packaged in plastic.  That's why Vivasana Sunscreen is so awesome.
Vivasana sent me some Solar to Polar Ultra and Solar to Polar Baby suncreen to try out.  I don't have a baby, but I've been using the baby sunscreen on my face and I am seriously impressed.  It hasn't caused any breakouts or clogged pores.  It leaves my skin super soft and well-moisturized. I love this sunscreen.
Solar to Polar not only protects against sun damage, it also fights chapped skin and wind burn, and it's water-resistant.  So far, I've only tested it while gardening and running outside, so I can't speak to it's degree of water-resistance, but I have been impressed with the way it doesn't run when I sweat.
Both sunscreens use a natural green tea fragrance.  There's only a very light scent.  The baby sunscreen barely has a fragrance, and the Ultra smells faintly of dried apricots (which made no sense to me until I noticed Apricot Kernel Oil on the ingredients list).  It's pleasant and in no way overpowering.
Vivasana is 100% natural and 70% organic.  The ingredients are simple and prounouncable.  There are no parabens, phthalates, BPA, Sodium Lauryl Sulfate, or nanotechnology.  The tubes are smaller than the usual squirt bottles of sunscreen, but the product is concentrated, so little goes a very long way.  And I love that the tubes are BPA-free aluminum, since aluminum can be recycled over and over again.  The only plastic is the cap.
And, in addition to making a wonderful, eco-sensitive product, Vivesana supports the African Mother's Health Initiative.
This is not an inexpensive product, but I think it's well worth it.  I will be purchasing Vivasana in the future so I can maintain my pastey pallor safely.