Posted on
November 14, 2008

by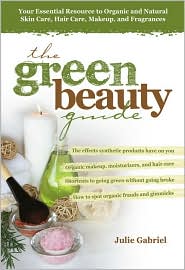 Part science text, part shopping guide, and part recipe book, The Green Beauty Guide is a must-have resource for anyone interested in going green.  Author, Julie Gabriel, who will be guest posting here next week, was the associate beauty editor for Harper's Bazaar (Eastern European editions) and is a registered nutrition specialist. 
Filled with shocking facts about the personal care product industry, The Green Beauty Guide doesn't just tell readers to go green, it tells us why.  For example, a sidebar states that as many as 90% of personal care product ingredients have never been tested for safety.  Another mentions that baby products are often more toxic than their adult counterparts.  We cannot rest easy on the idea that personal care product manufacturers have our best interests at heart.
Julie compares conventional, chemical laden personal care products to junk food.  She believes that rashes, pimples and redness are the body's response to unfriendly chemicals, and that the build up of these chemicals in our system can take some serious tolls on our physical health, including increasing our cancer risk.  What I love about this book is that Julie doesn't just talk about the risks, she talks about what we can do to take charge of our health in very practical terms.
Sure, if we all had limitless incomes and could afford to buy the best of the best all the time, we could just buy our way into green, healthy products, right?  Wrong.  We all know it doesn't work that way.  And limitless budget – that's not me, and I'm guessing if you read my site and consider making your own kitty litter and washing your face with baking soda, that's not you either.  The Green Beauty Guide has sections on decoding product labels, avoiding "green gimmicks" and recipes for making everything from lip balm to bug spray at home for a fraction of the cost.
It's written in an engaging and conversational tone, so even though it's super informative, you won't feel like you're reading a text book.  It's a great reference book for your own library, a great gift, and it's full of great homemade gift ideas.  Think about pairing the book with some Baby Oatmeal Bath Pouches and presenting it to a friend who's expecting, or with some Green Feet Fizzy Bombs for your favorite teacher.
You can read more about The Green Beauty Guide on Julie's website, and check back here next week for her guest post on winter skin care.
Thank you to TLC Booktours for sending me a copy of the book!