Posted on
January 9, 2009

by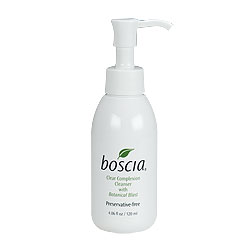 The grapeseed oil was working wonders, and except for that huge pimple I got on my forehead, the rest of my skin looked great. Until I got a big huge pimple on the side of my chin, and then one right on my chin that was huge and hurt really badly and made my chin swell up, and then I started feeling like a monster and didn't want to leave the house, because I have an overly-self-conscious streak.  It worked really well on my non-problem skin areas, but the places on my face that tend to break out were getting angry with me.  I think my problems came from several issues.
I got lazy about using the oil every time I washed my face.  It seems to work best when I start with a dry face, since oil and water don't mix, but there were way to many times that I got in the shower and then thought, "Oh crap, I forgot the oil," so I'd wash my face with body wash instead.  I had better results with the oil when I was consistant.  When I wasn't, I seemed to get an increase in clogged pores and big angry pimples.
I probably need a different treatment for my problem areas.  I know Julie's book has several fantastic options, but I lent it to a friend right before my face started erupting and she's still working her way through it.
I have been ridiculously stressed out.  The holidays, Argo's latest cancer scare (it was benign), some work stuff that had be a little bit down, and some other weird personal stuff, were all festering, and everyone knows stress is bad for skin.
I am horrible about drinking water.  Some days, I do an excellent camel impersonation.
Holiday food.  Too much sugar, too much fat, too much caffeine, and too many foods I wouldn't normally eat, all add up to angry skin.
So, yesterday as an act of desperation, I went to Sephora while I was waiting to clear up my phone situation, and chatted up a consultant in the Natural Skin Care section.  She recommended Boscia's Clear Complextion Cleanser with Botanical Blast.  A provisional report on Skin Deep lists it as a 1, (0 being the least toxic and 10 being the most).  Is it as safe or eco-friendly as just using oil?  No. But I really need to get my skin back to normal, and until I get my book back, I think this is a good option.
I'm still using the oil to remove my eye makeup, but I needed something with a little more oomph to handle my problem areas right now.  So far, the cleanser has already improved the situation greatly after only two uses.  But since my skin seems to love new treatments initially and then freak out on me later, I think I'm going to start testing skin care products for a month or more before I declare victory.  If I like this cleanser, I'll let you know sometime in mid-to-late February.  If I don't, I won't say anything, as per my review policy.