Posted on
October 14, 2010

by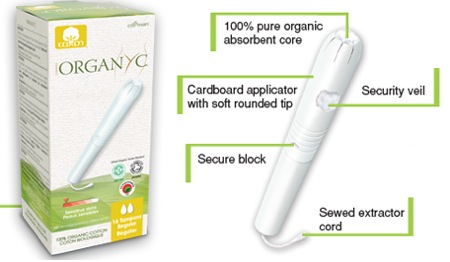 Well, I'm going to feel a little weird writing about this, but apparently my post about menstrual cups makes me The Greenists' resident expert on menstruation. I'm not sure I know any more about the process than any other 31-year-old woman, but I do know a thing or two about feminine products, having used them for nearly 20 years. (Is that right? Jeez, I'm old. Moving on.) So when Organyc — the first complete line of 100% organic cotton tampons, pads, and pantiliners — sent me some samples, I was happy to try them out.
And I'm glad I did. All-cotton tampons have been available in the United States for a while, but Organyc is the first to offer 100% organic cotton, and they make pads and liners in addition to tampons. They're completely free of chlorine and plastic, and they're compostable and biodegradable. While most pads and tampons are made of a combination of plastic, cellulose, wood pulp, and absorbent chemical powders, Organyc products don't contain any of that. They're also free of dyes or perfumes, making them hypoallergenic and ideal for women with sensitive skin.
Organyc sent me samples of their tampons and pantiliners.
The tampons are available in five levels of absorbency — junior, regular, super, super plus, and ultra. Each tampon comes in a cardboard applicator, which is nice and smooth and gave me no trouble. The tampon itself is very durable, and it worked as well as any other tampon I've tried. I had no problems with leaking or overflow, and I was able to remove it comfortably and easily. And they're affordable, too — a 14-count box of tampons will cost you $4.99 to $5.99. Prices vary by retailer.
The pantiliners also work as well as any other brand I've tried. Each liner has a topsheet and an absorbent core, both made of 100% organic cotton, and they come individually wrapped. The only critique I can offer is that the adhesive on the back of the liner wasn't quite as strong as I would like — there were times when the liner got dislodged slightly. But it didn't bunch up or leak, so that's a small concern. These pantiliners retail for $5.99 for a 24-count box.
Organyc also offers tampons without applicators, which I plan to try, as well as pads, an intimate wash, and wet wipes. You can find them at Target, CVS, Duane Reade, Price Chopper, and many other stores. Visit Organyc's website at www.organyc-online.com for a complete list of retailers, and you can also sign up to receive a free sample and a $1 off coupon for  a future purchase.
I like the idea of using chemical-free products, especially when they spend so much time in direct contact with my body. Organyc products cost roughly the same as other feminine products, and they're much healthier for me and for the planet. I see myself making a full switch to these products for all my girly needs!