Posted on
May 30, 2012

by

It's Neutrogena Naturals week on The Greenists! We'll be publishing reviews of different products from Neutrogena's new natural skincare line each day this week. Product samples were provided to us free of charge, but all opinions are our own.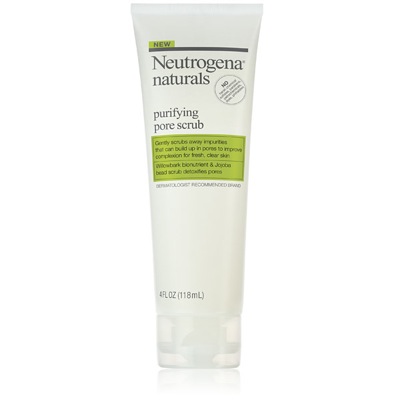 Skin care routine confession time: I do not exfoliate as often as I should. Most days, a little facial soap, water, and moisturizer are all I use. My skin is fairly sensitive, so I'm not one of those people who should exfoliate every day — if I did, my skin would be crazy irritated all the time. But when I brush my hair off my forehead and realize my skin is a little rougher than it should be, or if my skin just looks dull, I need a good green product to restore some radiance up in here.
So when Neutrogena offered to send me a bottle of Purifying Pore Scrub from its new Neutrogena Naturals line, I was happy to try it out. On paper, I love the line itself — every product is free of harsh chemical sulfates, parabens, petrochemicals, dyes, and pthalates, which means I don't have to worry about the health risks of rubbing it into my skin. None of the Neutrogena Naturals products are tested on animals, either, which is a big plus in my book. The 4-oz. bottle, which provides enough pore scrub to last quite a while, is made of 50% post-consumer recycled material.
But how good are the products? Stefanie and The Modern Gal are fans, and I have to join them — the pore scrub is awesome.
Whereas other pore scrubs I've used have been thick creams infused with scrubbing beads, the Neutrogena Naturals Purifying Pore Scrub is much thinner — runny, even — and the Jojoba beads are very fine, like sugar. Consequently, it's able to really get into my pores and slough away all those dead skin cells that are dulling my complexion. It's also got a little natural salicylic acid to help with blemishes (to which I'm still prone, sadly.)
My only teeny-tiny complaint is that the scent is a little strong. It's not a bad smell, mind you; it's just a little overwhelming at first. But the scent doesn't stick around after I wash off the pore scrub, so that's a very minor nitpick.
With summer heat and sunscreen wreaking havoc on my skin during the hot months, I see myself using this a lot this summer. At just $7.49 for a 4-oz. bottle, that won't be a problem for my skin or my wallet!
Interested in more Neutrogena Naturals products? We've got reviews up on The Greenists all week! Check back and let us know which is your favorite!