Posted on
May 29, 2012

by

It's Neutrogena Naturals week on The Greenists! We'll be publishing reviews of different products from Neutrogena's new natural skincare line each day this week. Product samples were provided to us free of charge, but all opinions are our own.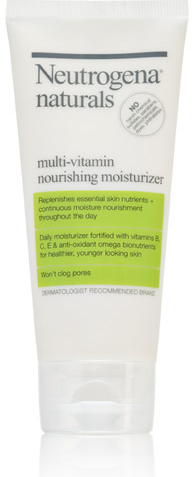 Like Stefanie, I've been a fan of Neutrogena products for quite some time because they've always worked well and are highly affordable. I'd been a fairly regular user of Neutrogena's Oil-Free Moisturizer for years. I haven't used that moisturizer for months though because I mistakenly purchased a huge bottle of another brand's moisturizer, thinking it was face wash. In an effort to be non-wasteful, I've been using that brand's not-as-good moisturizer since, and the condition of my face, well, it hasn't be so great lately.
So I was thrilled to do a little before-and-after test with the Neutrogena Naturals Multi-Vitamin Nourishing Moisturizer. My skin isn't particularly oily or dry, but I do have problems with acne, even at age 30. Using cheap or improper products on my face can often stress my skin out, and stressed-out skin often results in breakouts for me.
It took just a few days of using the Naturals Multi-Vitamin Nourishing Moisturizer twice a day to see a noticeable difference. My face was smooth and soft and seemed less inclined to zits, which, hallelujah! I especially love how the moisturizer comes out as a fairly thick cream but isn't heavy at all once it's on your face.
Stefanie has already told you about how all the products from the Neutrogena Naturals line are free of chemical sulfates, parabens, petrochemicals, dyes and phthalates. She's also told you all the great green practices by the company, like not testing the products on animals and packaging the material in post-consumer recycled content. The Multi-Vitamin Nourishing Moisturizer retails for about $12 and is 97 percent naturally derived from sources like Inca inchi oil and yerba mate tea leaf. (Read more about the moisturizer's ingredients).
I love that the moisturizer is designed to replenish essential skin nutrients and is fortified with vitamins and antioxidant bionutrients. It also smells pretty nice — "like berries," my husband commented one evening. My one and only beef with it is that it doesn't include any SPF for protection from the sun as so many of the company's other product lines offer. But for now, I'm willing to double-up with a separate suncreen to keep on using the Multi-Vitamin Nourishing Moisturizer.