Posted on
June 1, 2012

by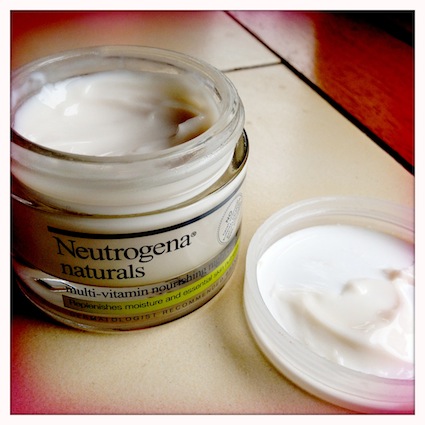 It's Neutrogena Naturals week on The Greenists! We'll be publishing reviews of different products from Neutrogena's new natural skincare line each day this week. Product samples were provided to us free of charge, but all opinions are our own.

Over the years as a green blogger, I've tested many many skincare products. Because we have an "if you don't have anything nice to say, don't say anything at all" review policy, there have been many beauty blunders you haven't heard about. Testing so many products did a number on my skin. Two years ago, I ended up with a rash of milia that sent me to the dermatologist and landed me on some prescription skin care products that were definitely not green.
Once my skin cleared up, I vowed to choose my products carefully and not try something just because a company offered to send it to me. But I grew up using Neutrogena products and had a relatively acne-free teenager-hood.  I'd also just used up a super pricey night cream I'd splurged on but wasn't planning to buy again. So when the offer to try Neutrogena Naturals came around, the timing was perfect and I thought that at the very least it wasn't likely a Neutrogena product would wreak havoc on my skin.Night creams are a tricky thing. During your sleeping hours, you want to moisturize generously without smothering your skin, and Neutrogena Naturals Multi-Vitamin Nourishing Night Cream does the job brilliantly.  It's creamy, but not greasy.  It spreads easily on my face and a little goes a long way.  I've been using it liberally for a few weeks now and have barely made a dent in the jar.  It doesn't clog my pores, in fact, I think it's cleared up my skin a bit.  And when I wake up in the morning, my face feels impossibly soft.
The ingredients are 97% natural, gluten-free, and not tested on animals.  The night cream comes in a glass jar.  The top is plastic, but minimal and made from post consumer recycled plastic.
I wasn't a fan of the scent when I first started using it, but it's grown on me and is less noticeable after a few weeks of use.  The only thing I don't love is that the fragrance in this product is synthetic. The ubiquitous "fragrance" label can mask some icky ingredients, and when I can I like to opt for natural fragrances.  But since going through all the skin turmoil that drove me to use very un-green Rx products, I have changed my philosophy on products a bit.  I want to use the best, most effective products I can that are in a reasonable price range and still do what I need them to do.  I'd rather consistently use a product that's 97% natural, than use one that's 100% natural but drives me to periodically use drastically ungreen products to clean up the mess.  This product (with an $11.99 price tag) fits that bill quite nicely, and I plan to purchase it in the future.  I'm obsessed with having such soft skin.