Posted on
May 31, 2012

by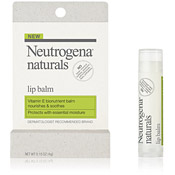 So I was sent two tubes of Neutrogena Naturals Lip Balm to test out. Now, I'm not much of a lippy user. Sure, when my smackers get dry I'll apply something — usually Vaseline — but I know the real problem is dehydration so I drink more water. But Neutrogena was nice enough to think of my lips so I gave their product a try.
And you know what? It's ain't bad at all.
The lippy wasn't greasy or sticky. It didn't have much of a flavor or scent, two things which drive me crazy. And the ingredients (always the first thing I look at before I try a new product) and the source of those ingredients are listed right on the back of the recyclable cardboard box
Beeswax (beehives)
Simmondsia Chinesis (Jojoba) Seed Oil (Jojoba Seed)
Sesanun Indicum (sesame seed)
Helianthus Annuus (Sunflower) seed oil (sunflower seed)
Olea Euroopaea (Olive) Fruit Oil (olive oil)
Butyrospemum Parkii (Shea) Butter (Shea Tree)
Flavor (Natural Flavor)
Theobroma Cacao (Cocoa) seed Butter (cocoa seed)
Tocopherol (Vegetable) (fancy way of saying Vitamin E)
The only thing the box doesn't tell me is about the seeds: Where they GMO seeds? Were pesticides used for the monocropping? Were the plants ethically harvested, traded, and sold? Did the workers get a fair share of the profits?
Walking down the isle at CVS or Walgreens can be fairly daunting if you want natural products. Believe me when I say they are few and far between. That's why, aside from those unanswered questions, I would recommend the lippy to anyone buying at a large box store.
Since I have two, it'll take me years to get through them both. I may write another post telling you how fab this product is, and how well it lasted, in a year or two.