Posted on
April 13, 2012

by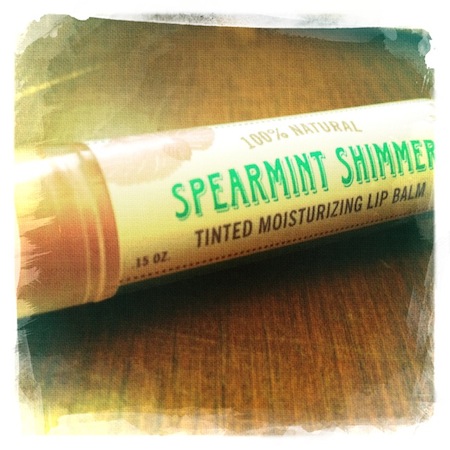 I'm not really a lipstick person.  I always want to be.  I love the elegance of the idea of lipstick.  I wish I could be like those women in old movies who slide into the backseat of a taxi cab, quickly pull a fancy compact and a tube of lipstick from their purse, and voila!  All is right with the world again.
But I'm really more of a lip balm kind of person.  I adore eye liner, and I rarely leave the house without at least a little mascara, but I always feel too painted and formal when I put lipstick on.  And with all the talk of lead in lipsticks, it's easier to keep lipstick as a special occasion thing.  Still, a little color is nice.
Andi from Good Things Green Things sent me a tube of Purple Prairie Botanicals Spearmint Shimmer Tinted Moisturizing Lip Balm, and I love it.
It has a light pink shimmer that would be flattering to any skin tone, and adds just a hint of color and brightness without looking fussy.  It's has a super smooth, light texture that wears nicely.  The spearmint adds a lovely fresh scent and a pleasant tingle.  The ingredients are 100% natural and 98% organic, it's made in the USA, and it carries a level 1 safety rating from EWG.
Ingredients: Organic Olea europaea(Olive)fruit oil, organic cera alba(beeswax), unrefined organic butyrospermum parki fruit(Shea Butter), coconut oil, mentha piperita(peppermint oil), mentha spicata(spearmint oil).