Posted on
March 14, 2008

by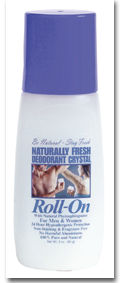 There have been several comments about natural deodorants not doing their job quite as well as we'd all like them to.
Here are some things I forgot to add to my post this morning that may help:
1. Drink enough water — if you are well hydrated, your sweat will be less concentrated and less stinky.
2. Wear natural fibers. Synthetic fabrics often have that "plastic bag" effect and make you sweat more. Branch out beyond cotton. Bamboo has a natural antibacterial quality and can be woven into super soft, luxurious fabric. 100% wool resists odors very well, which is why it's used in a lot of active wear (like SmartWool). If you do wear synthetics, try wearing a camisole or undershirt made from natural fibers.
3. Carry deodorant with you and reapply as needed. You can also always take a mini-Dr. Bronner's bath and start over with clean armpits.