Posted on
July 10, 2012

by

The Greenists are on vacation.  Please enjoy this recycled post.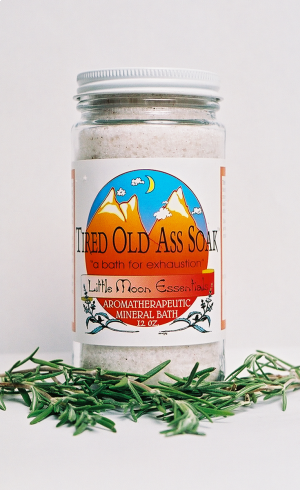 We just remodeled our bathroom.  I hadn't taken a bath in almost 7 years.  Mind you, I was showering.  This isn't some kind of big horrifying confession.  Our old bathtub was impossibly small and didn't allow for any kind of comfortable soaking.
When my friend Lady heard that we were getting a real bathtub, she sent me some bath goodies.  Along with them, a jar of Tired Old Ass Soak bath salts from Little Moon Essentials.
On Sunday, J and I did some super hard hiking and, well, not just my ass was tired.  I had sore muscles and the kind of cold that just won't seem to get out of your bones no matter how many sweaters you pile on.  So, I took a nice long bath with a big scoop of Tired Old Ass Soak, and felt refreshed.
It's a blend of salts, minerals, rosemary, eucalyptus, and vetiver, and it has a bright, energizing, clear your sinuses scent.  It made my skin soft, and in combo with some hot water, a mass market paperback, and a good glass of wine, it is a heavenly experience.
My soak came packaged in a glass jars with a metal cap, and you can call to refill.  From the site:
"We all use our natural products every day! We would never dream of testing on animals, and we all maintain an environmentally-conscientious standard that befits a "planet friendly" company. Our company is women-owned & operated, located in the heart of the beautiful Rocky Mountains, which we think infuses our entire line with a special energy. We love what we make and we put intention and magic into everything we do. Our goal is to heal the world, one body at a time! And to co-create the healthiest and most harmonious Planet possible with everything we make and do! Please call us and we'll tell you all about it!"