Posted on
December 24, 2009

by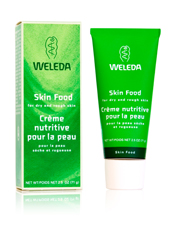 Still looking for the perfect gift?  If you're planning to get your holiday shopping done tonight, here are a few last minute gifts you can find at a local store.
Just because you're short on time doesn't mean you have to give a gift laden with parabens, phthalates, and other icky ingredients.  Luckily, it's gotten a lot easier to find greener, healthier personal care products in mainstream stores.
Here are some of my favorites:
Weleda – Their products can be found at natural food stores and fancy little boutiques, but also at Target.  A big tube of Skin Food, or a collection of little travel sized lotions and body washes would make an excellent gift.  Target also has a line of travel bags made from recycled soda bottles.
Yes To Carrots – This line can be found at Target and many drugstores.  The lip butters are my all-time favorite.  Also, look for the hair and scalp moisturizing mud mask, hand and nail spa, and the exfoliating and soothing facial mud mask.
Burt's Bees - Where can't you find Burt's Bees products is the question these days?  They even have a men's line of products, so you can check off Dad, Grandpa, and your brother.
Pangea Organics – Available at Whole Food Stores, or check the store locator to find a store near you.  The Egyptian Geranium with Adzuki Bean and Cranberry Facial Scrub is pretty much the best thing ever.  And they have holiday gift sets in boxes that, when planted, will grow a spruce tree.
You could pick up a copy of The Green Beauty Guide at your local book store, and then hit your grocery or natural food store to add a few beauty recipe ingredients to the gift.  Or pair The Kind Diet with the ingredients to make one of the recipes.  Or The Whole Green Catalog, The Green Bride Guide, or Ten Ways to Change the World in Your 20′s.