Posted on
August 1, 2007

by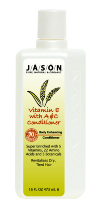 Don't think you'll be joining the "No Poo" movement anytime soon? The next time you're out of conditioner give Jason Vitamin E with A & C Conditioner a try.
My messy mop is a little on the dry side, so I love the body enhancing formula that "revitalizes dry, tired hair." The scent is clean, warm, and equally okay for men or women.
Jason is honest about the content of their products and doesn't use the terms "natural" and "organic" interchangeably. The conditioner is 70% certified organic, free of lauryl and laureth Sulfates, bio-degradable, and made without the use of animal products or testing. A scan of the ingredients also shows that it's free of parabens.
As an added bonus, the conditioner has a natural sunscreen to protect your hair from fading and sun damage. It's super concentrated, so a little goes a long way, and a bottle will last a long time. The Vitamin E with A & C Shampoo is pretty great too.