Posted on
March 31, 2011

by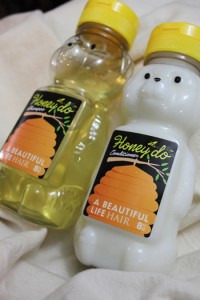 In my never-ending quest to eliminate unnecessary chemicals from my family's waste stream, I was very happy to be given the chance to review A Beautiful Life's Honey Do Shampoo and Conditioner set!
This shampoo and conditioner set is not only sulfate free, but also paraben free and it is made with organic honey.  As a side bonus, they also come in bear shaped honey containers for extra cuteness!  Having the ever elusive tag of "Made in USA" doesn't hurt, either. 
Although the shampoo is very similar in color to typical store bought honey and the conditioner reminds me of fond memories of creamed honey (make sure little kiddos heed the "Not Food- Do Not Eat" warning), I was very surprised when the dominant aroma was, in fact, lemon.  Although I was surprised, I wasn't unpleasantly so.
The shampoo does a great job of removing build-up, but it is gentle enough not to damage hair with frequent uses- and since running season has started for me again, so has more frequent hair washings.  The conditioner is a thick, heavy cream that really feels like it is packed with good stuff for your hair-  so much so that sometimes it needs a little extra coaxing out of the bottle.

 But both rinse clean, leave a slight hint of the enjoyable lemon smell, and leave hair easily manageable.
Unfortunately, I have been cursed with the lamentable trait of dandruff-  an affliction that, for me, only the embarrassingly titled shampoos seem to be able to cope with.  So although I only found half a solution to may hair washing needs, the lovely people at A Beautiful Life are offering a free giveaway of a Honey Do Shampoo and Conditioner Set for you to decide for yourself!
To enter, "like" A Beautiful Life on Facebook and leave a message for them with your best natural or organic hair care tip.  Then come back and leave us a comment here, on this post. The contest will close at 11:59 p.m. on April 5th and the winner will be posted the following day on April 6th.
Good luck!