Posted on
March 20, 2012

by

Please welcome today's guest poster, Lydia Quibbin-Jones.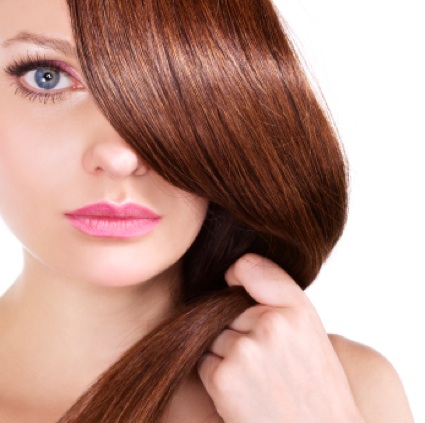 Everywhere we look, we see the promise of healthy, bouncy, and gorgeous hair — from TV commercials to prints ads to giant billboards in the city. They often feature models with luxuriously shiny tresses that make us wonder: "How do I make my hair look like that?" Before we know it, we're dashing off to the supermarket to hoard bottles of shampoo, conditioner, and various styling products.
Many people don't realize, however, that hair care products actually do more harm than good. Shampoos strip off natural oils released by the scalp, while conditioners (used to counter the drying effect of shampoo) block the release of natural oils. Because of this, our hair becomes dependent on these chemicals to look healthy.
While there are specialty products that claim to be milder, they are often more expensive and still contain chemicals. So how do we keep our hair clean and healthy? It's simple, really: raid our pantry and kitchen cabinets.  
Baking Soda
Baking soda is a weak alkaline that can clean the scalp and hair of excess oil and dirt. To make your own solution, dilute one tablespoon of baking soda in one cup of water. Just wet your hair, gently massage the solution on the scalp and hair for a few minutes (with more attention to the scalp), then rinse off. Place the leftover in an old dispenser for future use, and don't forget to shake again before using.
Depending on your hair type, you can add more water or less baking soda. Find the right amount that fits your hair by experimenting. Some people dissolve one tablespoon of baking soda with just enough water to make a paste-like solution.
Apple Cider Vinegar
Apple cider vinegar balances the alkalinity of the baking soda which gives hair a mild pH that energizes the scalp. Add one tablespoon of vinegar to one cup of water, adjusting the amounts until you find the right solution. After washing off the baking soda, apply the solution to the ends of your hair and rinse it thoroughly.
Herbal Options
Herbs are natural alternatives for keeping our bodies clean and healthy.  Aloe vera is one herb that does wonders for hair by effectively making your scalp healthy (no dandruff!) and also preventing hair fall. Massage aloe vera gel (available in stores) on your hair and scalp and rinse off just like shampoo.
Another wonder herb for your hair is calendula, a flower that contains properties great for scalp care. You can make calendula shampoo by placing dried flowers in a jar with lid, submerging it in olive oil, then storing it in a dark place for 2 weeks, occasionally shaking it so the flowers' components are dissolved in the water.  Remove the flower residue by straining the oil in a separate glass jar. Use this oil as you would shampoo.
More Kitchen Alternatives
Two more similar products you usually have in your kitchen work well as shampoo — eggs and mayonnaise. Separate the yolks of 1-2 eggs in a bowl then massage in hair, rinsing afterwards with vinegar. You can use a handful of real mayonnaise (which is made of eggs), massage and leave on your hair for around 10 minutes, then rinse off with vinegar. Mayonnaise also functions as an alternative conditioner. In this case, comb it in your hair (after washing it with a shampoo alternative), leave it on for an hour (or more for dry hair), then rinse off with vinegar to remove the smell.
Hair Fixes
If you encounter hair problems, you can also run to natural substances for a quick fix. Using honey after rinsing off the baking soda solution can help tame frizzy hair. On the other hand, greasy hair can be countered by applying lemon juice on the hair ends instead of apple cider vinegar. For itchy scalps, massage essential oils like lavender or tea tree oil on your scalp, then rinse off.
For natural conditioner alternatives, try using coconut oil (apply on damp hair, leave on for 20-25 minutes, rinse off) or olive oil (massage on your hair, leave on for 20-30 minutes, rinse off).
The only advantages of commercial shampoos are foam and fragrance, and we don't really need all that. Natural alternatives not only yield healthier and softer hair, they're also inexpensive and environment-friendly.
Lydia has been on the no 'poo route for a year now and her hair has never been healthier. She works as a part-time designer for Hinkley Lighting and lives in Ohio with her wonderful family.