Posted on
April 6, 2012

by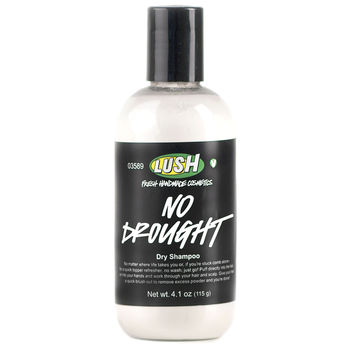 I've been blond for several years, but decided to go dark again. To keep my color from fading too quickly, I've resorted to a shower cap and washing my hair every three days instead of every day. It's better for my color, and it's better for my hair too. I've noticed my hair has more body and shine, and is easier to style.
But, of course, I still want to look like I have freshly washed hair. Dry shampoo has become my favorite beauty trick. On day three, I sprinkle a dime-sized bit of No Drought Dry Shampoo from Lush across my part and in any other areas that are feeling a little oily, and brush through. Then I twist my hair in a bun, cover it with my faithful shower cap, hop in the shower, and by the time I'm done, the steam has created some soft waves, the dry shampoo has lost it's powdery look, and I'm ready to go.  Or, if I'm feeling fancy, I can style with hot rollers.  It's also perfect for touching up post-workout hair.
It's much easier than wrestling with the hairdryer every day, and much classier than running errands with wet hair. As an added bonus, I'm saving water, because on my non-hairwashing days, my showers are super quick.
No Drought has a light, citrus scent, and doesn't leave my hair looking dull or powdery like some other dry shampoos I've tried.  The ingredients are simple, and it's easy to use.  I'm also saving money. A 4.6 oz bottle of No Drought is only 12.95, and a little goes a long way.  I expect this bottle to last five or six months, and I'm using less of my pricier shampoo and conditioner.
You can learn more about Lush's ethical and environmental policies here.
Do you use dry shampoo?  Do you wash your hair every day, or less often?