Posted on
May 22, 2012

by

Please welcome today's guest poster, Melissa.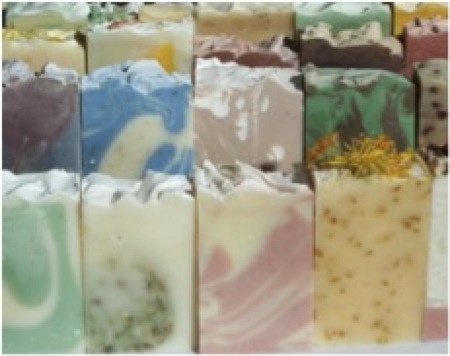 In the handmade soap and cosmetics industry, there can be a lot of misleading language. For example, "natural" doesn't always mean that a product is 100%, 10%, or even 1% natural. Instead, many products that carry the title "natural" may only contain some trace of something that is natural, a plant essence, extract, or vitamin for example, while the rest of the product is composed from the same harmful detergents and chemicals that its non-natural counterparts are.
For example, a Google search for "natural body soap" returns 33,600,000 results.  After a bit of inquiry, it seems that the first two results are without a doubt 100% natural products; good for you, Google! However, the third result is a product that contains numerous chemicals and non-natural ingredients, including as its third listed ingredient, sodium lauryl sulfoacetate. While this surfactant may not be as harmful as one with a similar name that we are all familiar with, sodium laurel sulfate, it is none the less far from being "natural" and carries many questionable, if not downright harmful, attributes.
The Environmental Working Group's Skin Deep Cosmetic Safety Database gave it a five out of ten for toxicity and mentions the following health hazards that may result from use of this ingredient: neurotoxicity, allergies/ immuno-toxicity, organ system toxicity (non-reproductive) and irritation of the skin, eyes, or lungs.
With this in mind, you can use the following five tips to make sure your "natural" cosmetics are really natural:
1. Do your research! Don't just buy a product because it says "natural" or "organic" or something similar. Read the ingredients; if you start seeing ingredients you can't pronounce, you have reason to be suspicious.
2. Make sure the product is scented with pure essential oils and not perfume oils. Essential oils are oils that are pressed from plants and contain no chemical additives; perfume oils are made out of chemicals in a factory. You can easily tell the difference because essential oils are named after the plants from where they come: lavender, rose, ylang ylang, cinnamon, etc.  If you are looking at a product that is claiming to be natural and the scent is key lime pie or root beer float, you can be pretty sure that it is not scented with essential oils. Look here for a complete list of essential oils and their attributes.
3. Pay attention to the price. Natural, organic products cost more, sometimes much more. If the price is too good to be true, it probably is.
4. Read reviews of products online. Find review sites that you like and trust and bookmark them.
5.  Shop at www.nakedbeautybathandbody.com for all of your natural cosmetic needs.