Posted on
July 27, 2011

by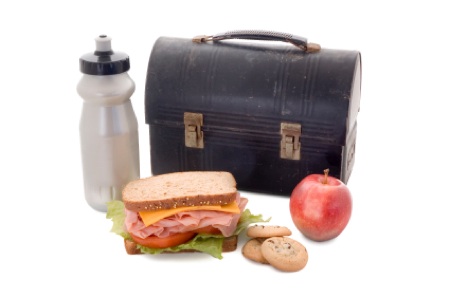 Believe it or not, it won't be long until that school bus will be pulling into your neighborhood, ready to take the kids off for another year of school. Every parent knows that kids need a nutritious lunch, whether they buy it at school or bring it with them, but here's a little secret: Kids aren't the only ones who need to eat healthy! Maybe you're a teacher who doesn't want to rely on the school cafeteria for your lunch, or maybe you go to an office every day and want to save a few bucks by bringing your own food to work. Any way you slice it, here are five green tips to keep in mind when you're packing lunches: 
1. Get a reusable lunchbox. Does your kid love Spider-Man? Do YOU love Spider-Man? Let your fanboy flag fly by eschewing the disposable brown paper bag and opting for a reusable lunchbox. This site has some cool, old-school boxes featuring everything from The Wizard of Oz to Harry Potter. (I'm partial to this Muppet Show one, personally.) Or you can go for a plain metal one, which is still pretty cool. Just keep in mind when you're buying: The less plastic, the better.
2. Put your food in reusable containers, too. A lunch box doesn't do much good if everything in it is disposable, right? Look into reusable containers for the different items in your lunch — sandwich, pretzels, veggies, etc. Just make sure your kid knows to bring the empty containers back home every day for washing. And don't forget the drinks — we all know that disposable bottled water, juice, or soda is a no-no, so put your drink of choice into a reusable bottle instead.
3. If you must use plastic baggies, reuse them. Look, plastic bags are pretty durable. Just because they're disposable doesn't mean you have to use them just once. When you've eaten everything out of the baggie, stuff it back in your lunchbox and use it again and again.
4. Bring your own utensils, too. Are you seeing a trend here? Do your wallet and the environment a favor by just not buying plastic utensils, ever. They're pointless. I know some people who carry around reusable utensils everywhere they go — they just stick the spoon, fork and knife into a pouch so they won't get dirty, then stick the pouch in their bag or purse. It's cleaner, cheaper, and greener than using plastic!
5. Local food is best. Eating healthy often goes hand-in-hand with being green. Organic, locally-grown produce is good for you and your kids, so buy food from your own garden or local farmer's market whenever possible. We can all do great things when we're healthy and well-fed!
What do you like to pack for lunch?