Posted on
March 23, 2011

by

Please welcome today's guest poster, Brian Jenkins.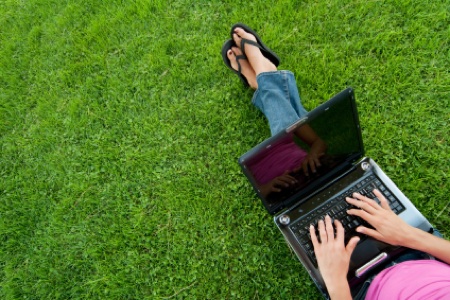 Aspiring environmentalists have an array of degree programs to choose from. Some interesting programs are available at schools across the nation, while others are currently only provided by a few scattered schools. Let's take a look at some of the programs out there. 
Aquatic Biology
Students study animals and plants living in water. The programs cover marine biology (saltwater systems) and limnology (freshwater systems). This field has a number of environmental applications, including the following:
Pollution prevention and remediation
Water resource management
Natural resource management
Conservation
Jobs in this field are provided by state wildlife, fisheries, and natural resource departments. Here's a list of schools offering undergraduate and graduate degrees in marine biology.
Coastal Management
Coastal managers protect, manage, and conserve coastlines and coastal resources. Coastal managers have the challenging task of balancing competing economic, environmental, and cultural interests. At Duke University, the Coastal Environmental master's degree is offered under the Environmental Management program.
Rangeland Ecology and Management
Bachelor's degree programs in this field prepare you to manage, restore, and conserve natural Western landscapes, including woodlands, grasslands, shrublands, and deserts. The University of Idaho is one school that provides this degree.
Conservation Biology
This degree is for you if you're interested in studying, maintaining, and improving the planet's natural biological resources and biodiversity. It's a fast growing field due to the continued extinction of animal species and the loss of habitat due to human development.
Similar programs are available with the titles of biodiversity and conservation biology, wildlife and conservation biology, evolution and conservation, conservation biology and sustainable development, and ecology and conservation biology.
Master's in Urban Environmental Leadership
Offered by Lesley University, this program covers the various aspects of the urban environment. If you're interested in creating environmental and social change in cities, this program may be for you.
Forest Ecosystem Science Program
This bachelor's degree program attracts people interested in forest management skills and teaches students how forested ecosystems work. Graduates have employment opportunities in private industry, public agencies, and nonprofits. The State University of New York College of Environmental Science and Forestry offers this program.
Landscape Architecture Program
Landscape architecture is an environmental profession involved in the design, planning, and management of landscapes. Its's both a science and an art. Landscape architecture is based on scientific knowledge of natural processes and knowledge of cultural, historical, and social dynamics.
Bachelor's degree programs typically cover topics such as:
Landscape architecture technology
Landscape analysis and planning
Plant materials
Landscape architectural media
Theory of landscape architecture
The University of Oregon is one of the schools where you can find this degree.
ASU's Sustainability Program
Arizona State University's School of Sustainability has a bachelor's degree program in sustainability. Students can take the following concentrations: Sustainable Energy, Materials, and Technology; The Economics of Sustainability; and Sustainable Ecosystems. Students learn to develop sustainable strategies for land, water, air, and urban management at global and local levels.
The Association for the Advancement of Sustainability provides a list of schools offering bachelor's degrees in sustainability.
Renewable Materials Program
Oregon State University has a bachelor's degree program in renewable materials. According to the school, this program is designed to meet the demand for professionals in the manufacturing, marketing, and utilization of sustainable natural resources-derived materials. The program emphasizes core science, technology, communications, and business.
This is just a smattering of the degree program options available for environmentalists. So if you're interested in this broad field, you have plenty of programs to choose from!
Brian Jenkins writes about various career and education topics for BrainTrack.com, including college degree programs in environmental science.